Dreams are not reality. Movies are not reality. They are both part of what he have in life, and mostly what we really want. That's why they're constantly a focus in movies. Though the whole "it was all a dream" ending had worn out its welcome. That is until "Inception" landed in theaters and completely redefined reality and imagination.
"Inception" is a film that's been hyped up for months. It brilliantly showed us gripping footage while keeping us totally in the dark. For once in your life, you'll feel like you walked into a movie not knowing a single thing about what it really is. It's more than the thriller you thought it would be. It's, well, maybe you should be kept in the dark about that.
I will give you something, maybe slightly more than you could get from some commercials. "Inception" brings us to what may or may not be a futuristic dystopia. Or else it is a slightly altered version of our own time. In this world, technology exists that allows one to enter the human mind through dreams and use that to gather and manipulate ideas. It's called Inception. Two "architects," Cobb (Leonardo DiCaprio) and Arthur (Joseph Gordon-Levitt), are experts at this. Cobb is addicted to exploring the world of dreams, so much so that it causes strains between him and his family.
Cobb and Arthur are hired by a shady businessman (Ken Watanabe) to find some information for them. The two team up with a bright, young student (Ellen Page) to embark on a mind-bending, possibly dangerous journey into the human subconscious.
It's hard to know where to begin with "Inception." The way to enjoy "Inception" is to suspend reality and be engrossed into the many worlds you are introduced to. That's why the set pieces and camera are so crucial. This is a rare film that actually uses its sets properly. And much of what you see is done without the aid of CGI. Christopher Nolan decided to go the old-fashioned way and actually build real sets. For that, I applaud him.
Every location and every shot of the film feels so authentic, and so imaginative. The laws of gravity and physics no longer apply. Cities runoff into the sky. People can float. Objects can move at any pace they want. This is a world without rules.
With the infinite possibilities that lie within dreams, Nolan is given the freedom to bring the story into whatever direction he wants. Most directors seem to stop at certain points because they don't want to lose their audience. Nolan doesn't care if you're following or not. He'll go as far as he wants, for however long he wants to.
Nolan though is trying to unite two different crowds: those who want a thought-provoking movie, and those who want high-class entertainment. "Inception" amazingly caters to both needs.
As an action movie, "Inception" keeps you in constant suspense and constant shock. Fight scenes, whether real or imagined, are given time and detail. They aren't filled with the insanely fast cuts that made movies like "The A-Team" almost unwatchable. Nolan lets the audience savor every blow delivered.
The one action piece you won't stop thinking about involves a hallway and a lack of gravity. Any amount of description I provide can't possibly ruin it for you. It looks accurate enough to have been a green screen.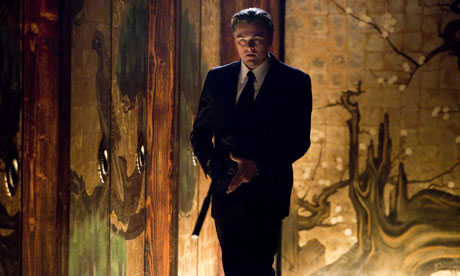 "Inception" proves a conclusion that has already been reached: Nolan is a master. He knows how to turn spaces into haunting visual nightmares. The looming shots of Tokyo and other metropolises might as well be Gotham City. He can then take those landscapes and fill them with incredibly complex stories.
Nolan's narrative techniques are as interesting as his directing. Much of the dialogue in the film is expository, but hearing every step of the process is so fascinating that you won't mind. Intertwined is some enlightening discussion about the nature of dreams and the human mind. It's the kind of information that must've taken years of research. How Nolan could fit all that in while making two "Batman" movies is a mystery to me.
The plot of "Inception" unfolds very slowly. As the characters enter deeper levels into the dream world, new layers of plot unfold. Strangely, the more chaotic things get, the clearer the story becomes.
It's kind of hard for any one actor in this film to truly shine, as Nolan and the visuals totally steal the show. That's not to say there isn't some fine acting. "Inception" boasts a few of the most talented young actors working today. With both "Inception" and "Shutter Island" this year, DiCaprio has proven himself an actor responsible of mature and psychologically complex roles. He knows how to play people so torn up that they can barely even function as humans. He is starting to become the DeNiro of our generation. Gordon-Levitt and Page meanwhile, provide a perfect counterbalance of wit and charm along with both understanding and total confusion.
All of this leads me to say that beyond all of the action, "Inception" is truly a human story. It is about loss and regret and the dream being an outlet to both conceal and confront the darkest parts of our lives. Dreaming can be a means of both escape and confrontation.
"Inception" reminded me for the first time in a long time what a true moviegoing experience is like. The theater exists for a reason. That reason is when you have a story this complex and sprawling, you need a gigantic screen to fill the room and truly take in everything being shown. It is in a space like this where we are most able to suspend reality. Plus, when you have a film this good on a screen big enough, it can truly suck you into the story. At a time like this in a film like this, 3D seems irrelevant. Your mind creates the illusion of being in a third dimension.
To call "Inception" the best movie made in a very long time would be an understatement. Nothing has changed the rules of cinema this much since "The Matrix." It combines so many genres into one mesmerizing whole. At so many points it could've fallen apart but Nolan keeps it intact.
"Inception" is a thriller of the mind that won't leave your mind. After some movies end, you immediately know you have to see it again. Only with "Inception" will you know that from the very first scene.
If You Liked this Movie, You'll also Like: Memento, Mulholland Dr., The Dark Knight, 2001: A Space Odyssey, The Matrix, Shutter Island, Fight Club, Blue Velvet, Blade Runner
For more awesome mind-bending movies, check
this
out.