Film festivals are a great place to catch films both new and old. Even if you've seen a film a million times before, a new setting can make a world of difference.
Last night, in perhaps one of the most perfectly planned events I have ever been to, "Jaws" was screened on the beach. If "Jaws" wasn't scary enough already, the beach element really helped. It made the horror of the man-eating shark much more intimate, and way too plausible for comfort. Spielberg's film has not aged a day since its release, and in fact gets better with each passing year. Despite its status as a classic,  a film like "Jaws" would have trouble getting made today. Unlike today's usual horror films, it is filled with long stretches of no action. Yet, the long stretches create more buildup and more suspense, which is why "Jaws" is still one of the scariest films ever made.
The audience also partly made this experience so special. Multiple moments garnered thunderous applause, including the moment when (SPOILER!) Quint (Robert Shaw) is eaten by the shark. Is that because everyone wanted him to go, or because it is such a memorable moment? I think it is much more of the latter. The reason a good theatrical experience can triumph any other way to watch a film is because audience participation means so much. It guides your expectations, and the laughter, cries, or applause act almost as a second soundtrack.
A memorable moment from the "Jaws" screening was meeting Benh Zeitlan, the very young director of the much buzzed about "Beasts of the Southern Wild." Clearly, he is not fully adjusted to fame and being recognized yet, as he was kind and even a little reserved. He told us that "Jaws" is his muse, and this screening was beyond  a special experience for him. Here lies the beauty of a great film festival: it is the intersection of films old, new, and future. It is a film convention, showroom, and marketplace. And Cannes is its king.
After the Jump: Jacques Audiard's "Rust & Bone," and Marion Cotillard's possible next chance of winning an Oscar.
"Rust & Bone," the latest film from French director Jacques Audiard, is yet another film about nefarious undersea creatures. But this is not a horror film. It is a drama containing a collision of different stories both devastating and uplifting. There is so much I don't want to give away, but what I will say is that it is about a man named Ali, who forms an unlikely friendship with Stephanie (Marion Cotillard), a whale trainer at a Sea World-type place who's world is turned upside down after a horrible accident. No, this is not the plot for a Lifetime movie.
"Rust & Bone" inadvertently proves the limits of American movies in its frank portrayals of sex and violent brutality. I can picture an angry studio executive now, bickering about the impossibility of marketing a movie about a disability and blah blah blah distribution rights. But I digress. "Rust & Bone" hits you so intensely in the end with such emotional fervor because it happens so suddenly, and follows two hours of ups and downs both sad and uplifting.
Ultimately, "Rust & Bone" is about two damaged people giving each other a renewed purpose for living, and life it is full of. Marion Cotillard is already my choice for Best Actress at the Oscars. Her reaction after first discovering her new ailment is so devastating and perfectly in line. Yet, she never does seem to give up on her self. She wants to do everything, yet needs the boost. Ali is her physical boost, and Stephanie his emotional one. "Rust & Bone," from Stephanie's angle, is all about coping with the world trying to give up on you.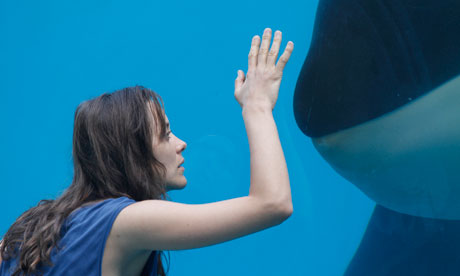 "Rust & Bone" consists of multiple story lines, with Stephanie's being the film's lifeblood, until Ali's story really kicks off towards the middle and third act. Audiard also directed "A Prophet," which I am told is a masterpiece. I can't compare the two, but it is obvious that Audiard has a commanding voice in the director's chair, and the substance would be empty without his style. For example, the use of Katy Perry's "Firework" would usually come off as trite and pandering. Here, it is shockingly awe inspiring.
Few films I've seen in theaters have had such a large emotional impact that stays after I leave the theater. The strangest part is, it was a feeling that I couldn't pinpoint. Was it happiness, sadness, or something else in between? All I can say is that I will be seeing "Rust & Bone" again when it comes to America, and you should, too.
Yes, I will be reviewing this again in the future.