This year, I am grateful that Netflix exists. It took me a while (well over a year, to be not-so exact), but I finally finished this show in its entirety. I was hesitant to watch it at first, because sports have never been my biggest interest and also I've been putting off watching "The Wire" for way too long. But this was the summer I finally decided to finish "Friday Night Lights." What a long yet rewarding journey it has been. "Friday Night Lights" is not just a compelling drama. It changed the way I view people who are different than myself. Most importantly, it made me realize that sports are about more than just competition; sports are about stories. A coach can do more than merely teach a sport. A coach can also be your personal hero. Especially if that coach is played by Kyle Chandler.
I thought it would be hard to write a straight-up review of the entire series. Instead, I figured I'd recap each season to the best of my ability. There will be things I forgot (sorry in advance for the lack of Buddy Jr.), but that is because "Friday Night Lights" accomplished more and introduced more characters than the average drama that goes on twice as long as this show did.
To the best of my ability, here is my recap of five seasons, through good times and bad, of "Friday Night Lights":

Season 1

Here is where it all began, naturally, because shows usually start in the first season. Unlike many of its contemporaries, "Friday Night Lights" never really struggled to find its voice. No matter, how many face lifts it went through, this show always knew what it wanted to be: a way to humanize and find the heart inside the tough world of Texas high school football. You never needed to be a sports fan to get on board with "Friday Night Lights." And even if you've never dealt with poverty or absent parents as so many of the characters do, the struggles faced on this show still feel universal.
I always loved the way that the show, especially in season one, made each issue as important as the last, despite how different they were. In one episode, Smash faces the repercussions of doping. In another episode, Julie mulls having sex for the first time. Few other shows have ever portrayed teen and family life this realistcally and earnestly. Maybe the only other American show to do it this well was also kicked off of NBC too early: "Freaks and Geeks."
Best Episode: I Think We Should Have Sex
MVPs: Coach & Tami



Season 2

Poor "Friday Night Lights." This show could barely find an audience to begin with, and then it's hit by a writer's strike that cuts its second season nearly in half. Still, the writer's strike doesn't explain some of the completely insane plot lines that came out of season two. And by completely insane, I mean Landry Clarke murders a man with a pipe and then he and his father set his car on fire. It was too big of an obstacle in Landry's relationship with Tyra in a show that usually gives its characters more plausible problems to triumph over. The season also suffered from a separation of the show's power couple. Also, Julie Taylor became almost impossible to watch, and Matt Saracen was reduced to unlikable status. Yet, despite these issues, the show still came out on top, and left with enough good will that it didn't manage to jump.
Best Episode: Leave No One Behind
MVP: Tami Taylor



Season 3

It took "Friday Night Lights" some time to climb back to the top but when it came back, it came back strong. Some of the most inspiring, intense, and moving episodes came out of this important transitional season. It contained some characters at their lowest points, including Buddy Garrity, who gets into a brawl at a strip club after a bad business deal that costs his daughter her college tuition. That's a lot of bad things for one person to do, but as always, "Friday Night Lights" can make you hate somebody one episode, and then love them the next.
However, there was one character introduced this season who is pretty impossible to like, and he became Dillon's chief villain: Joe McCoy. Now, he's not a villain simply because he looks like evil Phil Dunphy. In my eyes, he is about as despicable a TV villain as Joffrey Baratheon, despite, you know, never killing anybody. It's not just the way he abuses his son or pushes Coach Taylor out of his job. It's his pompous, robotic, unbudging ego that makes me despise him so much. Props to D.W. Moffett on a great performance.
Season three was about a lot of tears and goodbyes. Smash Williams goes off to college and in a "Dazed and Confused" like moment, the boys get drunk on the field, because this is Texas. Tyra works hard and has a whole lot of redemption in her quest to get into a good school. In one of the shows finest hours, Jason Street flies to New York to fight for a dream job as a sports agent as well as a new home for his child. It's also just flat out funny watching a bunch of guys from rural Texas trying to map out Manhattan.
When season three ended, the show had an uncertain future. It looked like its time at NBC was done. That's why the finale serves as both a season and a series finale. Eric is forced to become the head coach for the football team of the newly created East Dillon High School. Eric and Tami stand together on the dilapidated field, very cautious and unsure of what the future would hold for them. Luckily, DirecTV, for the first and only time ever, saved the day and let the world watch Dillon for two more seasons.
Best Episode: New York, New York
MVP: Landry Clarke



Season 4

Season four is truly the beginning of a new "Friday Night Lights," and it takes some time to adjust to. It's hard to see something you know so well completely change before your eyes. After a few episodes, I felt right at home.
The seasons begins as the unprepared East Dillon Lions are forced to forfeit their first game, a humiliation that doesn't bode well for Coach Taylor or the rest of the team. It sets up a tumultuous season for the characters, in which much is lost and many mistakes are made. Ultimately, season four is  a true underdog story. The most triumphant victory story of the season is Vince, wonderfully played by Michael B. Jordan, who comes from nothing to become a star quarterback.
Early on, Matt Saracen loses his father. The aftermath of his father's death is portrayed in what is perhaps the show's best episode, which is highlighted by an amazing performance by Zach Gilford.
Sometimes it's easy to forget that "Friday Night Lights" is as much about Tami as it is about Coach, and this season was a crucial one for Dillon's greatest lady. It was also a sad one for her, when she sees one of her good deeds come back and punish her. By the end, she finds herself going from principal of Dillon High School to a guidance counselor at East Dillon High, a smart move on the show's creators parts to get both Taylors conveniently in one place.
My favorite part of this season, and the season that followed, was the prominence of the Riggins family, who brought warmth and much needed comic relief to the show. Even at his worst, I always knew that Tim Riggins was a good guy. Then in the season finale, he pulls off the ultimate move of self sacrifice by taking the blame for a crime that his brother committed.  Eric Taylor might be the main character of "Friday Night Lights," but Tim Riggins is the big, beating heart. "Friday Night Lights" is mainly about what it means to be a man, and that seems to involve stepping up when the time is right and taking responsibility, even when it seems absolutely insane. Tim Riggins exemplifies what it means to be selfless.
Best Episode: The Son
MVP: Tim Riggins



Season 5

The final countdown.
For a brief moment in season five, I feared that it was going to fall into the season two trap of melodrama. What has always elevated "Friday Night Lights" above soap is its great writing that always puts the characters problems into perspective. That was lost in season two with Landry. Then in season five, Julie Taylor goes off to college and has an affair with her married TA. His wife finds out and Julie is crushed. She moves back home and stages a car crash so she won't have to go back to school. Things get a little insane for a brief second, but I remained on board because for the first time in the show's history, I felt some real sympathy for Julie. Being called a "slut" in front of your entire dorm certainly could not have soothed the pain of her recent breakup with Matt.
Season five was definitely an uplifting one, as the East Dillon Lions became a force to be reckoned with. However, it was also incredibly heartbreaking to watch Vince's personal life crumble, as his father comes back into his life and interferes too much with his future. There was always a nice father-son relationship between Coach and Vince and that is almost lost this season.
It took three seasons for "Friday Night Lights" to build a brotherhood between the original Dillon Panthers. In just two very short seasons, the bond between the East Dillon Lions created is even stronger, as best seen in the episode "Kingdom."
This was yet another important season for Tami, as she is offered the job of a lifetime as Dean of Admissions at a Philadelphia college. Does it make sense that a counselor from a Texas high school could suddenly be asked to run an entire university? Probably not, but Tami Taylor is that awesome that I got right on board. This story also led to the greatest challenge in Coach and Tami's marriage. In the end, like Tim in the season before him, Coach makes the ultimate act of sacrifice and moves away from Dillon so Tami can take the job.
The Taylors were always two of the most important people in Dillon. Yet, they were also always the outsiders, which helped give us the audience a better understanding of this town. They weren't born Dillonites, but they define this fictional town that feels all too real. Yet, they were even too big for this town. Dillon will be a very different place without them. But as the ending promises, Coach can bring clear eyes and full hearts to any place he goes to.
Best Episode: Kingdom/Always
MVP: Billy Riggins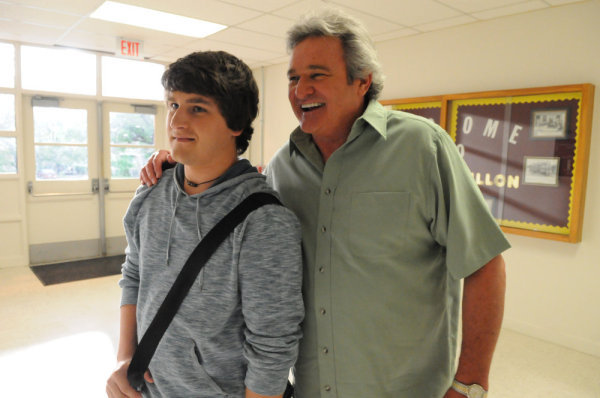 Best. Casting. Ever.