10. Match Point
Sure, this is just the serious half of "Crimes and Misdemeanors" stretched out into an entire film. Yet, "Match Point" was a significant moment in Allen's career. It served as both a career revival, and a rare chance for him to leave New York and find a new footing in Europe. It turns out that he was actually a good match for adulterous English drama. As long as there are neurotic characters with twisted love lives, Woody Allen will be there to write it.
9. Manhattan

"Manhattan" is one of the most influential films Woody Allen ever put out. Its influence can be seen in everything from "Frances Ha" to "Louie." It displays his talent for balancing comedy and drama. While most of Allen's films are known for being shot quickly, you'd never be able to tell by the style of "Manhattan." The black and white is unforgettable. For once, the 59th Street Bridge actually looked beautiful.
Yes, that's Meryl Streep.
8. Hannah and Her Sisters

While not Allen's best comedy, "Hannah and Her Sisters" contains the funniest exchange from any of Allen's movies (hint: it involves the Holocaust and a can opener). "Hannah and Her Sisters" contains a lot of supposedly good people doing bad things, and then doing whatever they can to prove that they're not bad people. The ending of "Hannah and Her Sisters" is surprisingly life affirming. Allen said this was not intended, but nonetheless, it works so well.
7. Sleeper
There was a time when Allen was known for straight up slapstick. During that time, Allen was in top form with "Sleeper," a brilliant futuristic farce. Allen's impersonation of a robot as well as a sex orb (that's what I call it) are amongst the funniest moments in the film. Some of the jokes might require a little research (you had to be there, man), so hopefully you're in the mood to do some research on New York in the 1970s.
6. Midnight in Paris
"Midnight in Paris" is perhaps the greatest achievement of the latter part of Allen's career. It combines the whimsical fantasy of some of his earlier works with the wisdom of somebody much more experienced. Allen mines some great humor out of a pseudo-intellectual (Michael Sheen) as well as some of the most famous authors of the 20th century. "Midnight in Paris" is one of the best concepts Allen has ever come up with, and it is topped with nearly flawless execution. Not to mention, Owen Wilson does a better impression of Woody Allen than any other actor who has attempted it thus far.*
See the rest of the list after the jump


5. Radio Days
Nearly every film that Allen has made feels like it was ripped right out of a page of his life. Yet, "Radio Days" feels the most personal and autobiographical. "Radio Days" chronicles the rise and fall of radio from the perspectives of its stars and its listeners in a way that is equal parts funny and moving.
4. Mighty Aphrodite

This is one of Woody Allen's most overlooked films. Containing a literal Greek Chorus, "Might Aphrodite" constantly pokes fun at itself all while moving its story along at a flawless pace. "Mighty Aphrodite" is a comedy of missed connections and miscommunications. What isn't said is way funnier that what is said. And it all leads up to an ending scene brimming with painful, hilarious irony.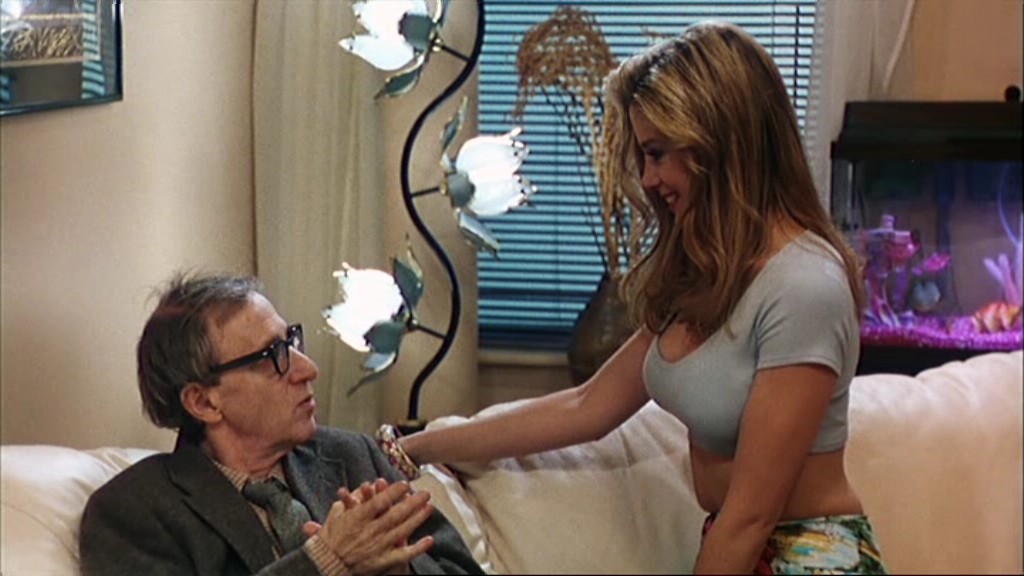 3. The Purple Rose of Cairo

"The Purple Rose of Cairo" does for movies what "Radio Days" does for the radio. This is Allen's original "Midnight in Paris"; it's a film that deals with one's longing to be elsewhere. It is whimsical and tragic all at once but in the end, it is a work of escapism that celebrates escapism itself.
2. Crimes and Misdemeanors 
What a strange yet brilliant idea: tell two different stories with similar themes and events, yet make one a comedy and the other a drama. Along with great writing (no surprise here), "Crimes and Misdemeanors" also displays top notch performances from Martin Landau, Alan Alda (in total Alan Alda-ness), and Allen himself. Even at his worst, a Woody Allen joint is always entertaining and deep on some level. But rarely has he looked at faith and morality in such a complex way.
1. Annie Hall
This seems like an obvious choice. However, there's a good reason that "Annie Hall" remains one of the few comedies (unless you include "Crash") to have won Best Picture. Unlike most Best Picture winners in general, "Annie Hall" deserved to win. And what a film this is. 36 years later and it's still as innovative as ever. "Annie Hall" contains so much that it feels like it's going to just pop out of the screen at any moment a la "The Purple Rose of Cairo." Alvy Singer (Allen) talks directly to the camera. Characters turn into cartoons. Marshall McLuhan pops out from behind a poster to school some pretentious dude. "Annie Hall" is a rare film about relationships that holds nothing back. It's brutally honest while still being hilarious. In the wide spectrum of romantic comedies, there is nothing like "Annie Hall." And I don't think there ever will be again.
*Unless Michael Stuhlbarg's dentist in "Blue Jasmine" was meant to be an Allen surrogate.