This is a recap of episode 16 of season 5 of "Breaking Bad." The episode is "Felina." IT'S THE FINALE. 

Well.

Well, well, well then. That's all I can think of saying at first. There's a lot to say. 

First of all, this definitely isn't the ending you expected. Nearly every prediction made by the Internet was wrong, proving that Reddit can't write a TV show. Or at least not one as good as this. 


Continued After the Jump


"Breaking Bad" was a show that constantly built up upon itself and changed. The final episodes of "Breaking Bad" did not resemble anything seen in season one. However, the series finale, entitled "Felina," combined the best of the early years of "Breaking Bad" with the best of the later years. 

Right after the main title credits had rolled, Walt had already gone from New Hampshire to New Mexico. It was wise not to show his whole trip, as that could have been an entire season of a completely different show. This current Walt is hard to define. All I know is that he definitely stole Lindsay Weir's jacket. Anyway, this was the end of silent rage Walt from "Granite State" and the return of the man who takes action.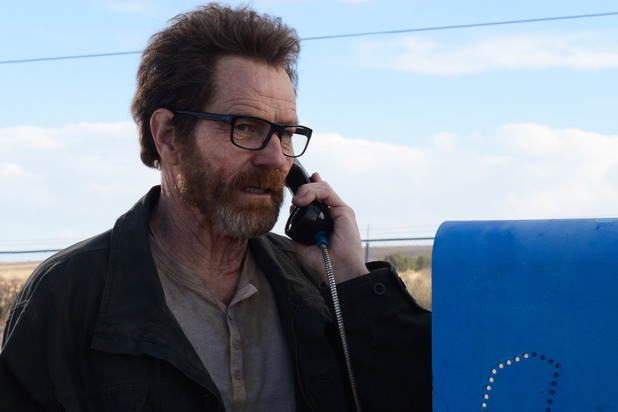 Much of this episode was about emotional catharsis. The tense yet surprisingly funny showdown between Walt, Gretchen and Elliot was the light patch this show needed after weeks of tragedy. Elliot and Gretchen's house is a paradise for people with too much money to spend. At first, they're too distracted with their gadgets and small talk to realize that Walt has broken into their house and is standing just a few feet away from them. Perhaps this is the "The Good, the Bad and the Ugly" Mexican standoff that was alluded to weeks ago. However, this showdown ends in a much less violent fashion. Walt gives them a sizable chunk of his fortune, and asks them to give it to Flynn once he turns 18. Gretchen and Elliot, who seem so shocked to be alive the entire time, accept Walt's money. Last week, it seemed like Walt was returning to kill them for shaming him on Charlie Rose. But this week saw the return of a more level headed Walt. Instead, Walt got his revenge through fake snipers. Badger and Skinny Pete, the show's best dynamic duo since season one, also showed the show's overall view on humanity: you can make a person drop their moral code in an instant as long as you offer them enough money. Goodbye, you goofy Greek Chorus.

While "Breaking Bad" usually saves its flashbacks and flash forwards for beginnings and endings of episodes, "Felina" decided to plop a few right in the middle. One showed Jesse woodworking. The good thing about this week's marathon on AMC was that it reminded me about Jesse's past woodworking love. Then cut back to the present day, where prisoner Jesse looks like a mix between Jean Valjean and Viggo Mortensen in "The Road." Following that, another flashback shows the fateful day that Hank asked Walt to come along with him to bust a meth lab. If only Walt had just said no to Hank. Throughout its five seasons, "Breaking Bad" liked to show that most of the bad things that happened to its characters were partly their own faults. Even a good guy like Hank wasn't safe. No one was safe in this universe, any bullet could ricochet at any moment.  

The most exciting part of this finale is that it brought back genius Walt, who has been missing for a long time. At first, I thought Walt was still being an idiot. After all, Walt left his car in a Denny's parking lot, went back to his own house, and then talked to his neighbor. But once he went to see Skyler, I realized that he was in the midst of a planned death wish. Skyler, shrouded in cigarette smoke, gives Walt five minutes to explain himself. After Walt gives her the coordinates for his buried money and bodies, Skyler expects to hear more lies about how this was all for his family. Instead, he finally admits that everything he did was "all for me."  

"I'm surprised by this," said no one.

Walt is good at a lot of things, but one of them is not being honest (and ironically, he also eventually became a pretty bad liar). It must have taken a lot for him to finally admit that the man who protects his family is driven by a lot more than love. When I heard that this show was "Mr. Chips becomes Scarface," I assumed that meant that the main character would go out in a drug-riddled, ego-driven blaze of anti-glory. Instead, he tried to seek redemption in death, he died with his arms spread out because he wanted to die sacrificing himself for those he loved. He really wanted to convince himself of that. Maybe he could have done this if he hadn't been so obsessed with building an empire.   



The saddest part about this episode was the moment that Walt watched Flynn return home from a distance. He could never talk to his own son again. And with that, he was off to seek revenge on the neo-Nazis. He went in with the cover of a new business deal that they weren't buying into. While he never said this out loud, I believe Walt also wanted Jesse dead for making meth without him. However, once he saw what Jesse looked like, he realized that Jesse was a prisoner rather than a competitor. In that moment, Walt took pity on Jesse and perhaps saw a man that he knew so well, a man that he took under and raised like a son. Walt saved Jesse's life, as he pulled the trigger on his brilliantly created trunk-gun device that brought down the entire gang. 

This scene was Jesse's moment, and even Walt knew it. As Walt put a bullet in Uncle Jack's head, Jesse brought down Todd in the most violent way imaginable. Once that happened, all I could feel was an immediate sigh of relief. "Breaking Bad" was always great at planting seeds, and the show was building up to that final showdown since Todd shot Drew Sharpe off of his motorcycle. 

It would have felt wrong if "Breaking Bad" concluded without a true showdown between Walt and Jesse. What was amazing about it was that they used so few words. Neither said anything about Brock or Jane. Instead, Walt hands Jesse a gun and asks Jesse to shoot him. Jesse notices that Walt has already been shot, but the real reason he lets Walt go is that he admits that he wants to die. Jesse got the same emotional catharsis out of that as the audience did from watching the neo-Nazis get mowed down. Another good name for this episode would have been "Confessions," a title already taken by another episode this season. 



Walt and Jesse have fought on several occasions throughout the show's run. Yet, they have always had a strong father-son relationship that perhaps neither of them could achieve with any of their real family members. I couldn't tell if Jesse truly cared for Mr. White anymore. However, it was clear that Walt cared for Jesse. Like all of his other family members, Walt provided for Jesse even when it was a risk for him to do so. With Hank gone, Jesse is the closest thing to a hero left in this gritty world. He's the only one who gets to leave the compound alive. With tears of joy in his eyes, he takes a car and drives right into "Need for Speed." I don't know if he'll get to live the rest of his life and never get caught for his crimes. If he does, I have a feeling he'll rescue Brock and then get a job that involves taking care of kids. He's great at that.

After Jesse departs, Walt is left to hobble to his death. He is kept alive for a lot longer than he probably should have been for this thing called dramatic effect. The show's final moments bring him back into a meth lab as Badfinger's "Baby Blue" illuminates the scene. Walter White is now completely alone. His family and friends have either died or abandoned him. All he has left is his one friend, his baby, his true love: those little blue crystals. Call it an unhappy ending, but Walt got to die doing what he loved: cooking meth and tying up loose ends through murder. Some might interpret this as a hero's death, but just remember all of the circumstances that led to this exact moment. Walt probably didn't want to die, but he knew that he had to. He probably thought that a man who caused the death of his brother-in-law didn't deserve to be alive. Plus, if he died in the lab, he gets to take credit for all of the meth Jesse cooked. Therefore, Jesse doesn't get in trouble, and the Heisenberg legacy lives on. 

The ending of "Felina," like that of such remarkable episodes before it like "Face Off," was better than just about any movie. It was satisfying and answered a lot of questions while not struggling too hard to put a bow on every little thing. Here is a show that let its characters die memorably, but not necessarily with class or dignity. There were many faces to "Breaking Bad." First, it was a dark comedy. Then, it was a tragedy. Then, it was a tale of karmic justice being served. 

Tonight, I was reminded why "Breaking Bad" ever began anyway. Walter White, a dying man, started cooking meth to feel alive again. In the process, he caused the death of hundreds and then himself. It is fitting that Walt was brought down by his own gun. The only man who could ever kill Walter White is Walter White.

Other "Breaking" Points
Not that any of them are reading this, but thank you to every single person involved in "Breaking Bad" for bringing this show into my life. "Breaking Bad" has become so big that it's not "cool" to call this one of the best shows ever anymore. But I'll just say it anyway because everyone knows its true. 

As always ladies and gentlemen…the sound of the wind. 

There are way too many pay phones in "Breaking Bad" for comfort. 

Until tonight, I almost forgot about how brilliant this show's song choices could be.

I still don't know what to call this new Walt. Post-Heisenberg? Hipster Walt? Unabomber seems fitting. 

I almost completely forgot about Lydia! The realization of her imminent death provided another cathartic sigh. I thought the closeup shot of her drink was just Vince Gilligan's way of messing with us. No visual trickery this time. And a major PR blow to the Stevia industry.

Lesson learned Lydia: never use artificial sweeteners. 

Whether he's tormenting Lydia and Todd or Gretchen and Elliot, Walt has a way of acting so nonchalant just moments before he's about to try and completely ruin someone's life. I think its a way to give himself control of the situation by putting his enemies' off with his casualness. Now that is the stuff of a criminal mastermind. 

Todd's ringtone is the song "Lydia the Tattooed Lady." Points to Todd for still being creepy even after death. Points deducted from me for life for not realizing until now that Groucho Marx sings that song.

"It's All Over Now, Baby Blue" would have been another good song to end the series with.

Meanwhile, "Blue" by Eiffel 65 would have been the worst final song choice ever.

On "Talking Bad" (yes, I actually watch it), Vince Gilligan said that the ending was meant to be reminiscent of "The Searchers." If you haven't watched "The Searchers" yet, then you really should. 

Some unexpectedly great comic relief: Marie can't tell the difference between Becky and Carol. Poor Carol!

Also, poor Huelle. 

Tonight's funniest line: "Elliot, if you wanna go that way you're gonna need a bigger knife." 

Orchestral music strangely has the power to make things more intense. 

Did Walt really believe that it was all about him? Had he truly convinced himself? Or was he just playing Skyler once again in a really elaborate way? I vote that admitting his selfishness was his most selfless act in ages.

Jokes that "Breaking Bad" is a spinoff of "Friday Night Lights" > Jokes that "Breaking Bad" is a spinoff of "Malcolm in the Middle"

If you want some more insight into the decisions of Walt and Jesse tonight (and also throughout the whole season), watch "In Bruges" and pay close attention to Ralph Fiennes' very strict code of life.

Uncle Jack just wants to die with a cigarette in his mouth.

Were Todd and Lydia on a date together? Was it business? Personal? Both? 

Walt was wearing the same green collared shirt that he also wore in the pilot.

This was most likely not deliberate, but that shot of Walt's bloody hand slipping off the metal machine made me think of "King Kong" letting go and then tumbling down the Empire State Building. In both cases, the king falls and dies because they have no choice. 

The Stevia shot and the final shot resemble two very famous shots in "Taxi Driver." I don't know if it influenced "Felina" at all, but Walter White and Travis Bickle definitely have a lot in common. They'd definitely have a pretty interesting coffee date. 
I have had an amazing time watching these episodes and getting to write about them. I am sad that it all has to end now. Thank you so much to everyone who chose to read my recaps when there are so many others out there. Just because I never want to let this show go, I will be working on a full series recap soon. For now, onto the next show. 
"You know who else cut corners in life? Walter White. You know where he is now? DEAD."